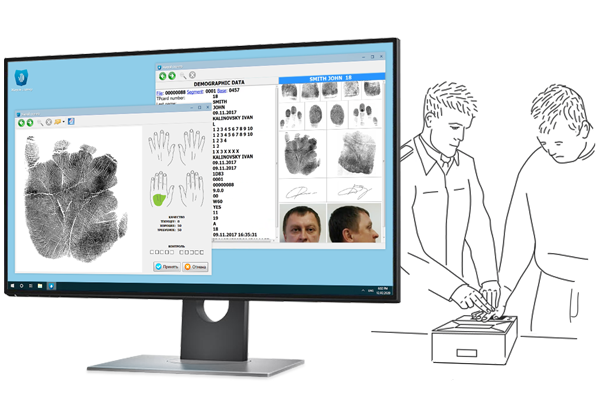 LIVE SCANNER Multibiometric Enrollment System
Unified software for high-quality biometric identity enrollment: input of text data, fingerprints and palmprints, iris images, facial images and distinctive features.
Provides data transfer to PAPILLON AFIS or other databases in ANSI/NIST, TIFF, BMP formats.
Compliances
Files
Related Products
PRODUCT DESCRIPTION
OPTIMAL APPLICATION AND FUNCTIONS

Creation of electronic tenprints and multi-biometric identity registration:

Civil
Personnel
Criminal
Migration

Functions:

Registration of any fingerprints and palmprints in accordance with auto-ID standards
Input of facial images (front and profile) in accordance with auto-ID standards
Input of SMT (scars, marks, tattoos and other distinctive features) photos into the database
Addition of a verbal description of the individual's appearance to the tenprint
Input of an electronic graphic signature of the person being registered and the operator by means of a graphic tablet
Printing out of tenprints
Local database search to prevent duplicates
Search by text data in a regional database
Export of tenprints to PAPILLON AFIS and other AFISs
PRODUCT INTERACTION

LIVE SCANNER software provides multibiometric enrollment and subsequent export of data to PAPILLON AFIS, GWI or other databases, running on:
CHARACTERISTICS

Data composition:

Rolled or flat impressions of 10 fingers
Reference impressions of four fingers taken simultaneously
Reference plain impressions of thumbs
Palm impressions: full impressions, upper and lower palm impressions, writer's palm impressions
Photos (full-face and profiles, distinctive features)
Verbal description of the individual's appearance
Electronic graphic signatures

Data sources:

Fingerprint and palmprint scanners
Flatbed scanners (for scanning paper media)
FK-3 photography kit, digital and web cameras (for capturing facial and SMT images)
Zirkon (for inputting iris images)
Passport scanner (for acquiring demographic text information)
Graphic tablet (for acquiring graphic signatures)

Export formats:

Tenprints created with LIVE SCANNER can be saved in the local database of the enrollment workstation or be exported in the following formats:

Papillon
ANSI/NIST
RUS-I
TIFF, BMP

Conformity:

FBI WSQ compression of images (compression of finger and palm print images without noticeable loss of quality, the maximum compression rate is 1:15)
FBI "IAFIS IQS": CJIS-TD-0110 and CJIS-RS-0010 (quality of images taken from fingerprint scanners complies with the FBI specifications)
Dactyloscopy GOST R 58298-2018, ISO/IEC 19794-2 and 19794-4 (biometric data exchange format complies with the Russian Federation national standard)
Full-face image ISO/IEC 19794-5 (biometric data exchange format complies with the Russian Federation national standard)

Operating system:

Windows 7 (32bit)
Windows 8 (32/64 bit)
Windows 10 (32/64 bit)
RHEL/CentOS 6x (64 bit)
RHEL/CentOS 7x (64 bit)
Astra Linux 1.5 (64 bit)
Astra Linux 1.6 (64 bit)
COMPONENTS, DATABASE, LICENSING

Components and the database:

Operator workstation – Desktop application (thick client) with FireBird or SQL-light DBMS.

The LIVE SCANNER software is developed for use together with PAPILLON fingerprint scanners. Each scanner model requires an appropriate version of the application.

Subject to licensing:

Operator workstations (the number of operators is not limited, restricted is the number of simultaneous sessions) paired with a fingerprint scanner

Contact our managers for further details.
KEY BENEFITS

Reliability:

High-quality images of wet, excessively dry fingers and palms, as well as fingers and palms with rubbed or naturally low papillary patterns
Complete software elimination of motion aberrations when rolling fingers
Real-time visual control of the fingerprinting process
Automatic quality control and color indication and text prompts
Slap-to-roll check and notification of any error (violated sequence of taking fingerprints, an attempt to scan fingers of another person, etc.)
Tenprints can be attested by electronic signatures with the prohibition to subsequently change any fingerprint/palmprint/photo images in the tenprint.

Speed:

It takes less than one minute to fingerprint a person
Autotransition to the next step if the previous scanned image is of good quality
Reading of passports and smart cards to speed up the text data input procedure
Stream input mode increasing the speed of registration of a large number of people
Friendly interface, no strict requirements to staff qualification

Scanning dry and erased hands

Image of a dry finger captured with a scanner without a polymeric membrane

Image of a dry finger captured with the PAPILLON scanner

Scanning wet hands

Image of a wet finger captured with a scanner without moisture discriminating optics

Image of a wet finger captured with the PAPILLON scanner

Compensation for motion aberrations during rolling fingers

Smeared image of a finger captured with a scanner without smear compensation

Smeared areas compensated with the PAPILLON scanner software