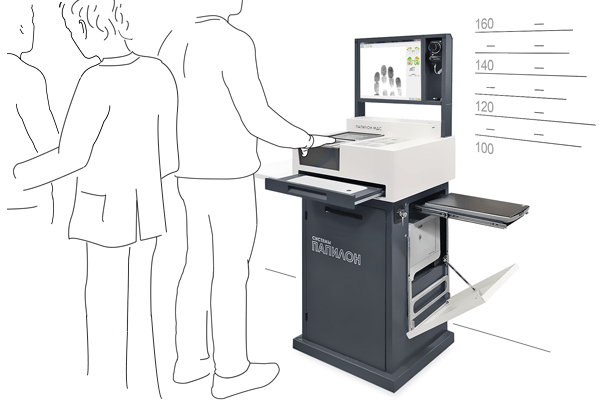 MDS Multifunctional Station for Biometric Enrollment
On offer: MDS-45с and MDS-45с.1
Designed for police departments and other institutions engaged in daily biometric / fingerprint and palmprint registration and on-the-spot checks of detainees, suspects and other categories of people.
The station is designed for intensive use.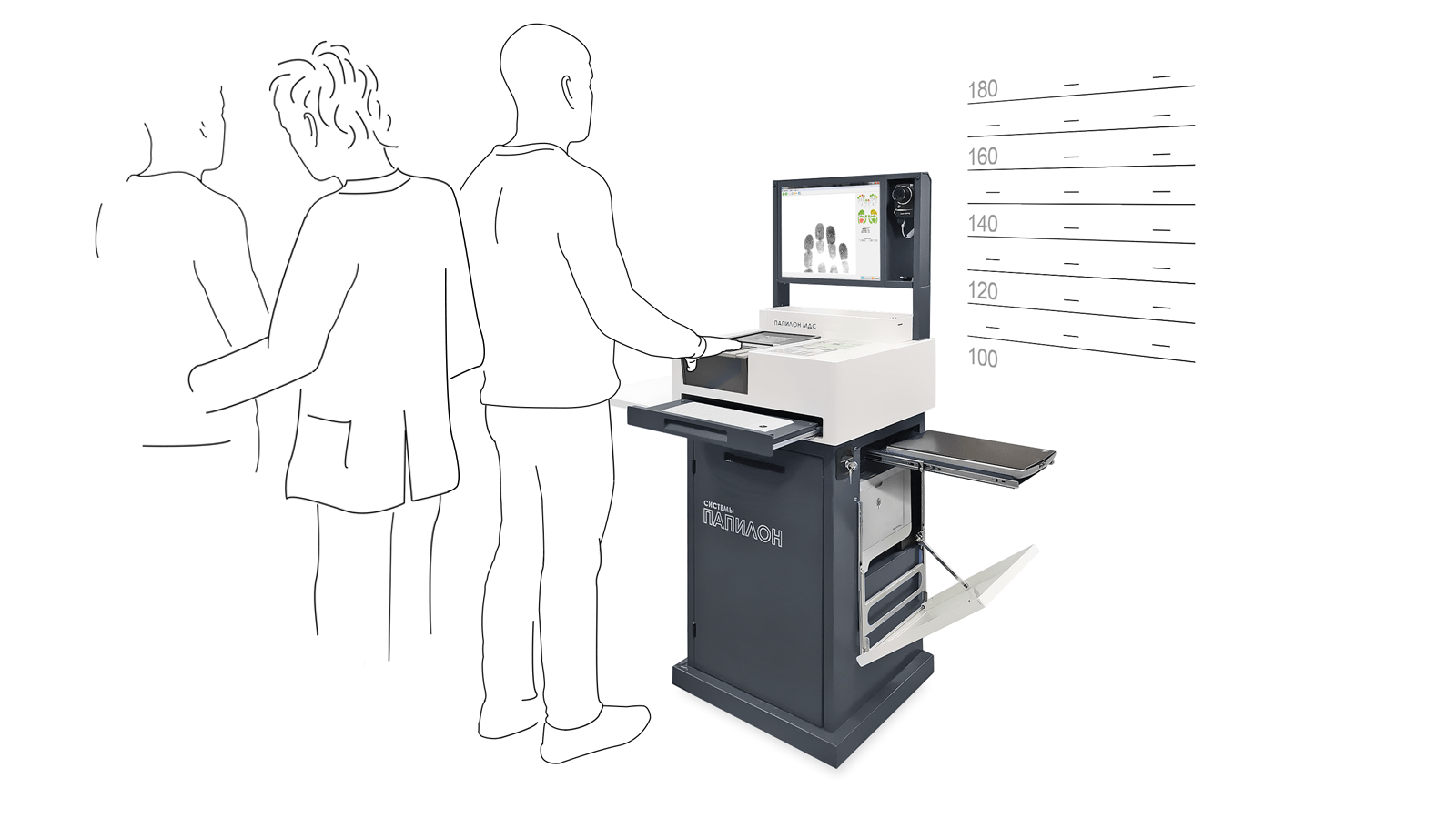 Compliances
Files
Related Products
PRODUCT DESCRIPTION
OPTIMAL APPLICATION

Creation of electronic tenprints and multi-biometric identity registration:

civil
personnel
criminal
migration

Instant identity verification against AFIS databases (Express ID checks)

Functionality:

creation of electronic tenprints (demographic data, rolled fingerprints of 10 fingers, plain fingerprints, palmprints, images of appearance and distinctive features)
storage of electronic tenprints in the local database (LIVE SCANNER system), printing of tenprints
transfer of tenprint files to the central AFIS database
express ID check against the local LIVE SCANNER database (whether the person being checked has been already enrolled or not)
express ID check against the central AFIS database

The station can be used to input and transfer fingerprint and palmprint information from paper tenprints and latent print cards to the central AFIS. For this purpose, additional equipment (flatbed scanner) and software (PAPILLON AFIS remote input station) are installed.
PRODUCT INTERACTION

MDS operates under the LIVE SCANNER and PAPILLON-Filter programs. The station can be used for input and transfer of fingerprint and palmprint information to central PAPILLON AFIS, POLYFACE, and GWI databases as well as third-party databases in ANSI/NIST format.

To acquire fingerprint images, the built-in DS-45 fingerprint scanner is used.

To take pictures, the built-in camera or FK-2 photographic system equipped with a height scale is used.
Zirkon scanner can be connected to the station in order to acquire iris images.

 
MODELS AND CHARACTERISTICS

Produced in two variants: МDS-45c and МDS-45c.1 (with a flatbed scanner).

Station composition:

PC (system unit, monitor, keyboard with a trackball)
LIVE SCANNER – Biometric registration system
 PAPILLON-Filter – Biometric Express ID Check System
DS-45 fingerprint scanner
Camera (facial and distinctive features photography)
GSM modem and/or external modem (depending on the communication channel used)
Printer
Flatbed scanner (only for МDS-45c.1)
Linux or Windows operating system

At customer's request the station can be equipped with:

A graphic tablet (input of graphic signatures)
An ability to add electronic digital signatures to electronic tenprints created

Dimensions:

in non-operational condition – 1170x585x562 mm
in operational condition – 1600x585x562 mm

Channels for communication with Central AFIS (TCP/IP):

dial-up and dedicated telephone lines
cellular communications (EDGE/GPRS/GSM, CDMA)
LAN
COMPARISON OF VERSIONS
KEY BENEFITS

Reliability:

High-quality images of wet, excessively dry fingers and palms, as well as fingers and palms with rubbed or naturally low papillary patterns
Complete program elimination of motion aberrations when rolling fingers
Vandal-resistant – stainless steel housing, ability to fold up the monitor and lock the equipment with a key
Multi-modality – the station is equipped with everything needed to create electronic tenprints, conduct on-the-spot ID checks, and at the customer's request can be completed with a flatbed scanner to input information from paper media
Visual control of the fingerprinting process in real time
Automatic quality control of acquired images – color indication and prompts
Slap-to-roll check – notification if the scanning sequence is violated or if fingers of another person have been scanned
Tenprints can be certified with electronic digital signatures with prohibition of any subsequent change of fingerprint, palmprint and photo information

Speed:

Less than one minute required for taking all fingerprints of a person
Autotransition to scanning the next image if the previous one is of good quality
Streaming input mode – to speed up the process of registering a large number of people
User-friendly interface, no special requirements for personnel qualification