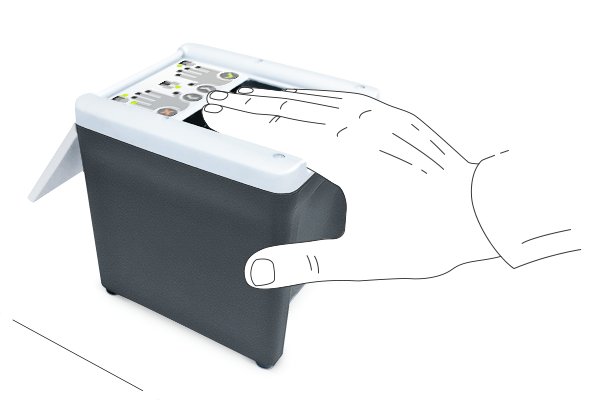 DS-30 Fingerprint Scanner
On offer: DS-30N
Coming soon: DS-30NI
Invented for taking rolled and flat fingerprints, including slaps (4+4+2).
– Scan area: 86 mm х 78 mm
– Interface: USB 2.0
PRODUCT DESCRIPTION
OPTIMAL APPLICATION

Obtaining high-quality fingerprint images for:

Electronic tenprint records
Access, time and attendance control systems
Express identity checks against AFIS databases
Verification of biometric documents (by one or several fingerprints)

The scanner is designed for high-quality electronic fingerprinting.

Owing to the scanning surface of 86 mm x 78 mm, it allows you to acquire not only rolled fingerprint images, but also plain impressions of fingers taken simultaneously (slaps). Besides, both thumbs can be scanned together.

In one of the projects for automating the passage through border checkpoints at airports, the function of immediate identification by slaps (four fingers taken simultaneously) is implemented, which speeds up the process of matching due to increased number of captured minutiae in fingerprint patterns and improves reliability.

Suitable for both indoor and field work:

Its optical system minimizes the impact of bright light on the image quality

Housing of the device is made of stainless metal and impact-resistant plastic

Taking of an individual's dactyloscopic biometrics within one minute
PRODUCT INTERACTION

The scanner runs:
MODELS AND CHARACTERISTICS

The scanner is available in the DS-30N version. New DS-30NI is getting ready to release.

It is used to capture rolled and plain fingerprints, including slaps (4+4+2).

DS-30N Scanner:

Technical characteristics of DS-30N

Compact and energy-efficient

Scan time for a rolled impression < 4 seconds

Scan time for a flat impression < 2.5 seconds

Scan area — 86 mm

х

78 mm

Output image size:

Rolled fingerprint — 45 mm

х

40 mm

Plain finger impressions — 86 mm

х

78 mm

Image resolution

— 500 ppi

Dynamic range

— 8 bpp

Signal-to-noise ratio — not less than 40 db

USB 2.0 — 480 Mb/s

Built-in control board — Yes

Required RAM, minimum — 512 MB

Power supply — 5 V (USB)

Power consumption, maximum — 2.5 W

Dimensions (WxDxH) — 142 mm x 160 mm x 160 mm

Weight — 2.5 kg

Material of the housing — impact-resistant plastic

DS-30N Scanner

DS-30N Scanner

DS-30NI Scanner (coming soon):

It has an embedded control panel instead of a display. This allows us to reduce power consumption and to inform the operator during the process about which finger should be scanned, and about the quality of images obtained. Built-in infrared light goes through the finger's blood flow allowing you to track and prevent an attempt of forgery (amputated finger/hand, dummy, etc.).

This model is suitable both for independent use and for integration into third-party equipment to create turn-key solutions under a manufacturer's brand.

DS-30NI Scanner

DS-30NI Scanner

The built-in control board allows you to locate the device at a distance from the computer to hide the screen from the fingerprinted.
COMPARISON OF VERSIONS
KEY BENEFITS

Scanning dry and erased hands

Image of a dry finger captured with a scanner without a polymeric membrane

Image of a dry finger captured with the PAPILLON scanner

Scanning wet hands

Image of a wet finger captured with a scanner without moisture discriminating optics

Image of a wet finger captured with the PAPILLON scanner

Compensation for motion aberrations at rolling fingers

Smeared image of a finger captured with a scanner without smear compensation

Smeared areas compensated with the PAPILLON scanner software