DPP-7 Mobile Biometric ID Terminal
On offer: DPP-7, DPP-7I, DPP-7M
Coming soon: DPP-8
— Express identity checks by fingerprints against local database and Central AFIS
— Express identity checks by facial images against central POLYFACE database
— Ability to save a photo and demographics acquired for express ID checking in a file of POLYFACE or AFIS
— Instant check of faces in a videostream against the local database of faces
— Reading and displaying of data from biometric documents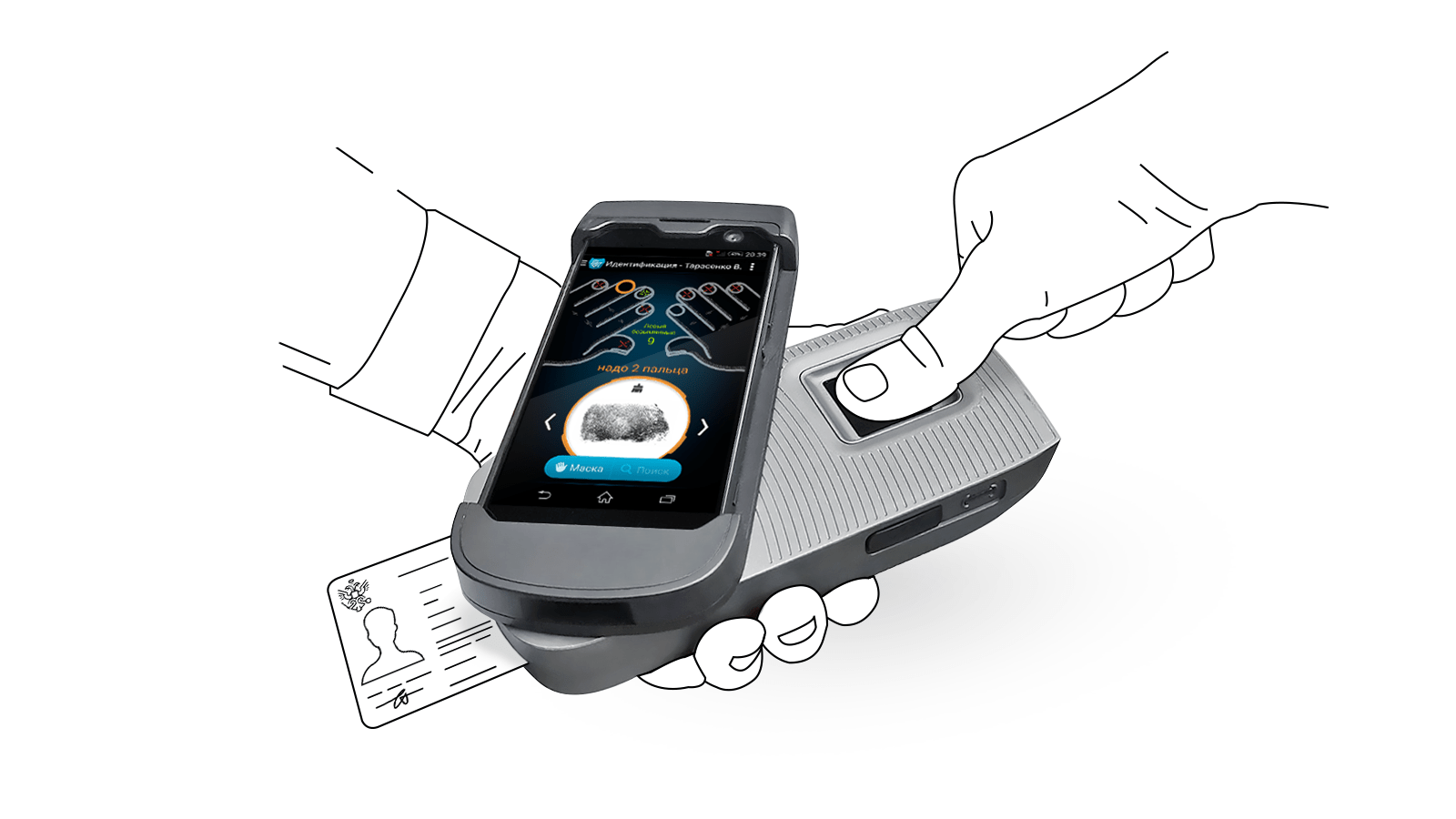 Compliances
Files
Related Products
PRODUCT DESCRIPTION
OPTIMAL APPLICATION

Instant checks of persons' identity in situations that require reliable and quick identification of individuals:

Transport safety
Border and customs control
Registration of refugees and migrant workers
Industrial safety
Crime investigation and antiterrorism protection
Relocation of persons under investigation and prisoners

Verification of authenticity of submitted documents, identification of undocumented citizens
Identification of citizens who are unable to report themselves due to age or health condition
Safety at mass gathering events

The DPP-7 devices were successfully used in investigatory activities to protect public order and safety during the 21st FIFA World Cup in Russia.

FUNCTIONAL CAPABILITIES:

Real-time identification of individuals by:

fingerprints against the local and remote AFIS databases of tenprint records
fingerprints against remote PAPILLON AFIS databases of unsolved latents
facial images against remote POLYFACE databases

Detection and cropping of facial images on group photos
Instant check of facial images from a videostream against the local database
Reading of passport and visa documents that meet the ICAO Doc 9303 requirements:

recognition and reading of machine-readable (MRZ) string (up to three lines)
reading of data, including fingerprint information, from a contactless chip
verification of a document owner by his/her fingerprints

Reading of ISO/IEC 7816 contact smartcards:

reading of data from the card chip, including fingerprint information

The smartphone is used for taking photos and videos.

The software is compatible with an extensive list of smartphones and tablet models available on the market.
PRODUCT INTERACTION

The family of DPP-7 devices interacts with PAPILLON AFIS, POLYFACE and the Data Bank of the Russian Ministry of Interior to obtain identification results on requests for express ID checks.
MODELS & CHARACTERISTICS

This device is available in the following versions: DPP-7, DPP-7I, DPP-7M.

Search time (all models) against:

local watchlist of tenprints (up to 50,000 tenprint records) < 1 minute
local watchlist of facial images (up to 100,000 photos) < 30 seconds

DPP-7:

The terminal is coupled with the smartphone via Bluetooth. The terminal is attached to the smartphone with a rotation gear.

Smartphone (minimum requirements):

Android 4.хх and onwards
CPU — 4 cores, 1,5 GHz
RAM, minimum — 1 Gb
Memory — 8 Gb
Expansion slot (microSD) —  32 Gb
Display —  4,7'', 960х540 pixels
Camera, minimum — 5 Mpx
NFC support
Battery capacity, minimum —2300 mAh
Data transfer — GSM/GPRS/EDGE/UMTS/LTE, WiFi

DPP-7 Unit:

MRZ reader — Yes
Contactless smartcard (ISO 14443 Type A/B) reader — Yes
Contact smartcard (ISO/IEC 7816) reader — Yes
Autonomy (ICR18650 battery type) — 14 hours
Charging (microUSB) < 3 hours
Protection rating according to GOST 14254 — IP54
Dimensions (WxHxD) — 80 mm х 45 mm х 180 mm
Weight — 0.6 kg
Scan and image processing time < 2 seconds
Scan area — 20 mm ×20 mm
Image resolution — 500 ppi
Dynamic range — 8 bpp

DPP-7I:

The terminal is coupled with the smartphone via Bluetooth. The terminal is detached from the smartphone.

Smartphone (minimum requirements):

Android 4.хх and onwards
CPU — 4 cores, 1,5 GHz
RAM, minimum — 1 Gb
Memory — 8 Gb
Expansion slot (microSD) —  32 Gb
Display —  4,7'', 960х540 pixels
Camera, minimum — 5 Mpx
NFC support
Battery capacity, minimum —2300 mAh

DPP-7 Unit:

MRZ reader — Yes
Contactless smartcard (ISO 14443 Type A/B) reader — Yes
Contact smartcard (ISO/IEC 7816) reader — Yes
Autonomy (ICR18650 battery type) — 14 hours
Charging (microUSB) < 3 hours
Dimensions (WxHxD) — 80 mm х 32 mm х 170 mm
Weight — 0.5 kg
Scan and image processing time < 2 seconds
Scan area — 20 mm ×20 mm
Image resolution — 500 ppi
Dynamic range — 8 bpp

DPP-7M:

Designed for intensive use. Comes with a dust- and moisture-proof smartphone Blackview with maximum index of ingress protection IP-68.

Components of DPP-7M:

DPP-7M unit with built-in fingerprint scanner DS-21C
Smartphone Blackview 9800 Pro

Smartphone Blackview 9800 Pro:

Android 9 Pie
CPU — 8 cores, 4 — 2.1 GHz
RAM — 6 Gb
Memory — 128 Gb
Expansion slot (microSD) —  up to 256 Gb
Display —  6.3'', 2340х1080 pixels
Camera with AF — 40 Mpx
NFC support
Battery — 6580 mAh
Charging connector — USB Type-C

DS-21C Fingerprint Scanner:

Scan and image processing time < 2.5 seconds
Scan area — 20 mm × 20 mm
Image resolution — 500 ppi
Dynamic range — 8 bpp
Dimensions — 53 mm х 30 mm х 110 mm
Weight — 0.17 kg

GET A QUOTE Read more about DS-21C…
COMPARISON OF VERSIONS
KEY BENEFITS

High-quality images of wet or excessively dry hands, as well as those with rubbed or naturally low ridge patterns
Instant check of a person's identity by fingerprints against both local and central databases of tenprint records
Instant check of a person's identity by facial images against POLYFACE databases
Work with passports and visa documents that meet ICAO Doc 9303 requirements:

recognition and reading of machine-readable MRZ string (up to three lines)
reading of data, including fingerprint information, from a contactless chip
verification of the document owner by his/her fingerprints

Operation with contact smartcards that meet ISO/IEC 7816 requirements:

reading of data from the smartcard chip, including fingerprint information

Smart cropping of facial images — after taking a full-face photo, the operator does not require to crop the photo
User-friendly interface, no special requirements for staff qualifications