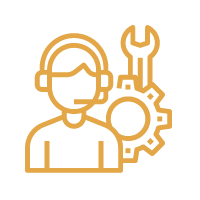 Service and tech support
Papillon Group guarantees high quality of its equipment and software.
Warranty and post-warranty support
Warranty obligations are valid for 12 months from the date of signing the certificate of delivery and acceptance and the work acceptance certificate (if no other conditions are stipulated in the contract).
Warranty support includes restoration of serviceability of software and hardware (if no other conditions are stipulated in the contract).
Post-warranty support encompasses both software support, including software updates, and maintenance of technical equipment. We keep flexibility when defining the scope of work depending on the customer's needs.
If you have any questions consult with us via:
Service and repairs
In the case of failure (mechanical damage and other malfunctions) you can send us the equipment for diagnostics and subsequent repair. In the absence of a post-warranty service contract, a one-time service contract will be signed.
Audit
A wealth of experience and our own vision of the architecture and principles of biometric systems allows us to provide audit services for existing customer systems.
Papillon experts can help you to timely detect low-quality completion of databases, receive analytical reports on the efficiency of biometric systems, and determine corrective measures.