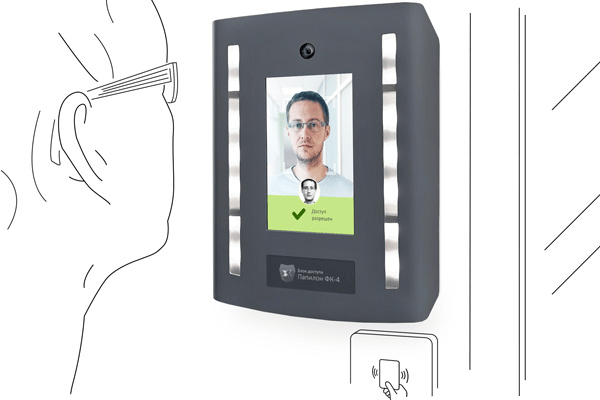 FK-4 Face-based Access Control Unit
Implemented concept
Designed for contactless identification by face in access control systems deployed at premises with an increased threat to the integrity of facilities
Compliances

Full-face image ISO/IEC 19794-5
Related Products
PRODUCT DESCRIPTION
OPTIMAL APPLICATION

Acquisition of face images for contactless 1:n identification or 1:1 verification of a person's identity:

Automation of access control to rooms with an increased threat to the integrity of facilities
Automation of supervision in military divisions, refugee centers, penal institutions, etc.

FUNCTIONAL CAPABILITIES

Detection of a face in a video stream and selection of the best frame for further identification/verification in GWI ACS
Display of prompt text and pictograms for obtaining a better photo of a person
Output of identification/verification results

The device does not provide database storage and off-line operation. The device is intended only for image acquisition and interaction with the user. Identification of a person is performed in the GWI system.

The procedure starts automatically as soon as an individual approaches to the FK-4 at a distance of 0.3 to 1 m and sees his face on the screen of the device.
PRODUCT INTERACTION

Used as an integrated part of a GWI access control system.
MODELS AND CHARACTERISTICS

Components:

Web-camera
Lights
Controller
Display
Specialized software PAPILLON

Specifications:

Interface

—

Ethernet

Controllable spotlight

—

Yes

Face image capturing range

—

0.3 m to 1 m

LCD display:

Dimensions—

7" (155х88 mm)

Matrix

—

CMOS
Resolution

— 

1920х1080 px

Automatic focus

Current

—

1.2 А

Voltage

—

12 V


Overall dimensions

—

305х230х110 mm

Weight

—

4.5 kg


Ingress Protection (IP) Code

—

IP54
KEY BENEFITS

Vandal-proof – an impact-resistant housing and protected monitor

Built-in lights and automatic or manual brightness adjustment allow you to acquire facial images without any supplementary equipment and special illumination in the room

Guidance displayed on the monitor facilitates the process of self-identification / self-verification
Results of identification/verification are output on the monitor