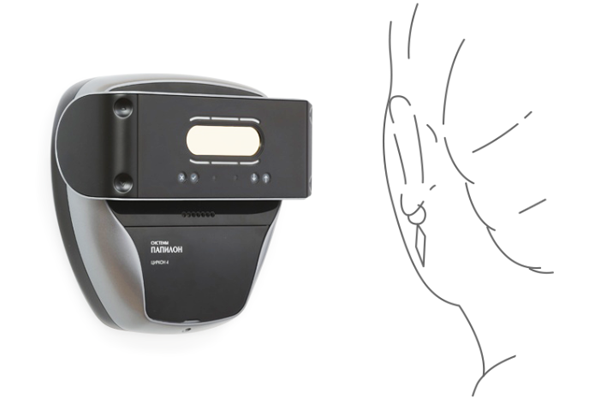 ZIRKON Iris-based Access Control Unit
On offer: Zirkon-4
Designed for contactless identification by iris in access control systems (ACS).
The device has its own database for autonomous operation with an electric lock. Can work as part of an ACS without permanent connection to the server.
Can also be used for registration in civil and forensic multibiometric information systems.
Compliances

Electromagnetic compatibility
Files
Related Products
PRODUCT DESCRIPTION
OPTIMAL

APPLICATION

Contactless identification (1:n) or verification (1:1) of a person by iris patterns:

Automation of access control as part of an access control system
Automation of supervision at military bases, migrant detention centers, penitentiary institutions, etc.
Safeguarding of protected areas (direct control of electronic locks via "dry contact")
Biometric civil enrollment (banks, hospitals, public institutions)
Investigative activities of law enforcement authorities (PAPILLON AFIS starting with version 9)

Functional capabilities:

Registration and digital encoding of iris images
Creation and storage of an array of records in an electronic database:

encoded iris patterns
text data

1:n identification of a person
1:1 verification of a person's identity
Control of barriers and electronic locks

Biometric templates can be stored in the RAM or in the memory of Zirkon. The device can operate both in autonomous mode ("dry contact"), and as part of an access control system (ACS).

The procedure starts automatically as soon as an individual just looks into the mirror standing 300-450 mm in front of the camera within its field of view.

To operate in the verification mode (one-to-one comparison), Zirkon is supplemented with a reader that reads personal identifiers stored on contactless ID cards, keyfobs, etc. Biometric templates and personal identifiers are downloaded into the Zirkon memory by means of the ACS.
PRODUCT INTERACTION

Integrated into systems for:

data acquisition for multibiometric databases (LIVE SCANNER and PAPILLON-9 AFIS)
express ID checks (FILTER) by iris images
access control (GWI and third-party systems)
electronic lock control and access lockout
MODELS AND CHARACTERISTICS

Autonomous user database is formed through a web interface. After the database is created, the Ethernet connection can be terminated. When Zirkon is integrated in an ACS, registration of users is performed through the ACS interface.

Brief statistical data on the main page of Zirkon

Adding new data to Zirkon database operating in autonomous mode

System log

General settings

Security certificates

Configuration maintenance and update download page

ZIRKON access unit includes:

iris scanner
built-in matcher

The following are additionally supplied for operation within an access control system:

lock controller
electronic lock

Specifications:

Recognition time < 2 sec
Protection against dummies (alive / not alive) – Yes
Local database capacity – 2,000 records
Reliability:

False Accept Ratio (FAR): 10-7
False Reject Ratio (FRR): 10-2

Interface:

Ethernet (setup, ACS communication)
RS-485 (in autonomous mode – control of the electronic lock controller, in ACS mode – communication with the ACS controller)

IR illumination – 850 nm
Image capturing range– 300 mm to 450 mm
Swivel angle – -15° / +30°
Protection rating according to GOST 14254 – IP20
Environmental specifications:

Operating temperature — +10°С to +35°С
Relative humidity — 98%

Power input — 12V
Maximum power consumption, maximum — 30W
Dimensions — 210 mm х 190 mm х 80 mm
Weight — 1.2 kg
COMPARISON OF VERSIONS
KEY BENEFITS

Contactless identification
Adjustable view angle
Voice guidance and light indication
Two-in-one – registration station and access control unit in one device
Safe for eyesight infrared backlighting
Autonomous electric lock control ("dry contact")
Operation within an ACS
Scaleability – the number of access units in an ACS is not limited