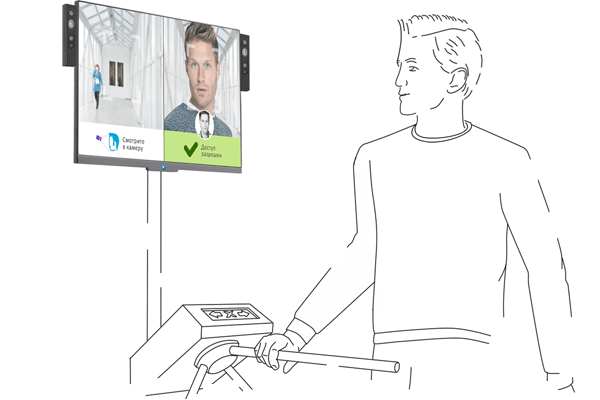 TF-Monoblock Face-based Access Control Terminal
Implemented concept
Designed for contactless identification by face image in access control systems. Equipped with an anti-spoofing module.
Optimal for automating two-way (entrance/exit) passages. Can work both connected with the server and off-line.
Compliances

Full-face photo ISO/IEC19794-5
Related Products
PRODUCT DESCRIPTION
OPTIMAL APPLICATION

Contactless 1:n identification of a person's identity by his/her facial image. The TF-Monoblock can be used in all areas of business and services where access and work-time control is required.

FUNCTIONAL CAPABILITIES

One-to-many identification
Protection against facial photos and other imitations
Automatic control of blocking devices (turnstiles) and other gateway equipment (card reader, light board, etc.)

The anti-spoofing function implemented by hardware and software means enables reliable protection against any imitation of a face image.
PRODUCT INTERACTION

Designed for use in access control systems (GWI).
KEY BENEFITS

Protection against dummies (live/not live) through the use of IR 3D cameras
Reduced number of items of equipment needed for two-way passage fitted with a turnstile (the monoblock enables both biometric identification and device control)
Multifunctionality that enables control of blocking devices and other equipment of the gateway (card reader, light board, etc.)