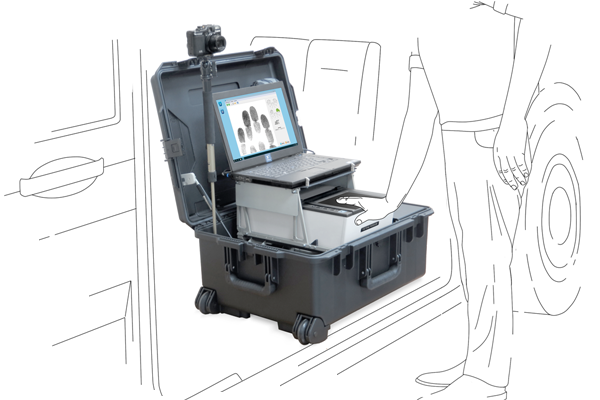 MKDS Mobile Fingerprint Enrollment and Express ID Check Station
On offer: one- and two-case models
— Express ID checks against fingerprints and facial images stored in central PAPILLON AFIS, POLYFACE and local databases
— Creation of tenprints (rolled and plain fingerprints, palm impressions, mugshots and photos of distinctive features), transfer to AFIS
The design of the cases provides for adding auxiliary equipment: FOSKO, a flatbed scanner, a printer, a tablet for taking a signature sample.
Does not require expert training in fingerprinting.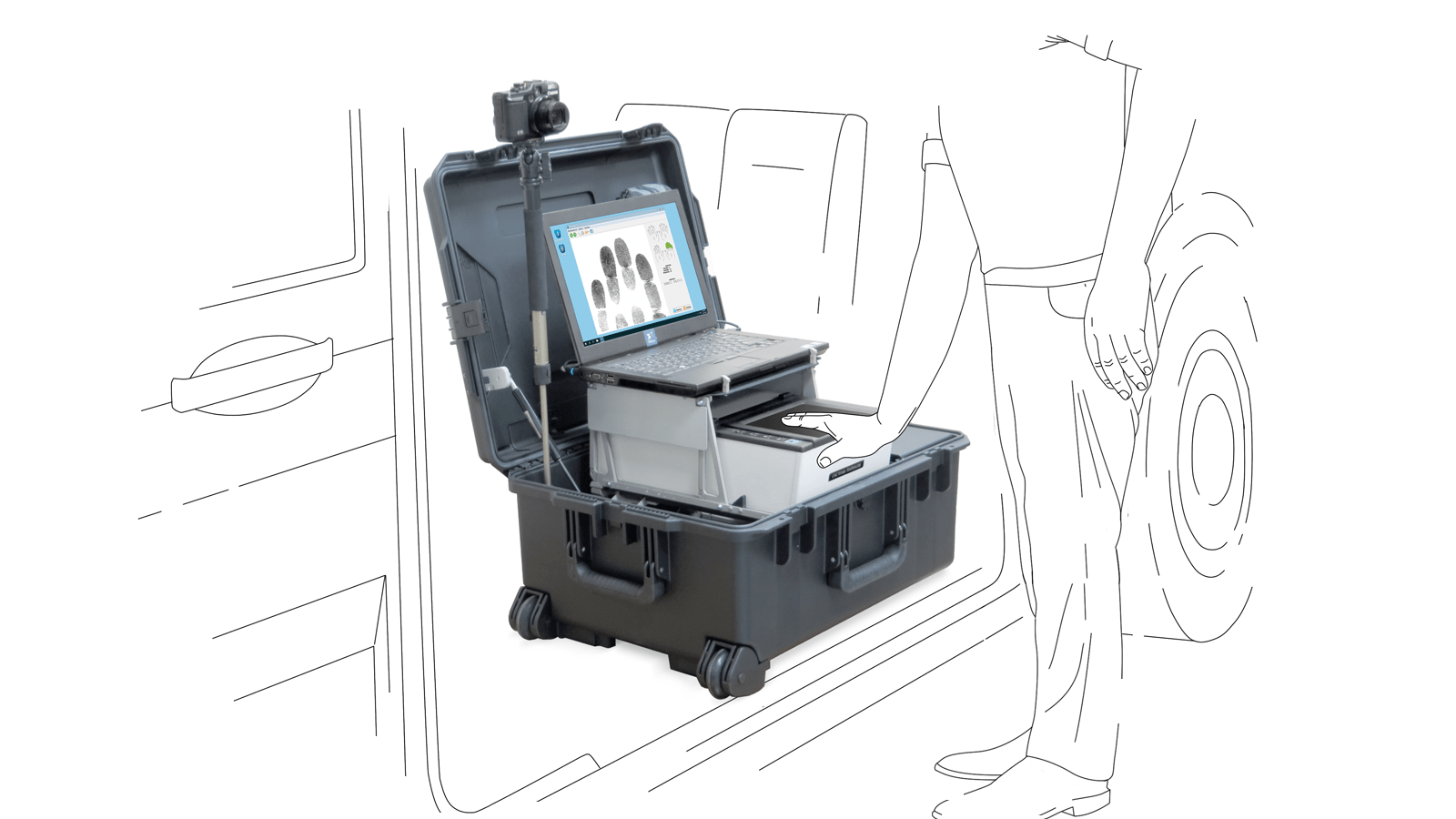 Compliances
Files
Related Products
PRODUCT DESCRIPTION
OPTIMAL

APPLICATION

Formation of a local database of tenprint and latent print records
Input of tenprints into the database with the use of the LIVE SCANNER system, from paper media (flatbed scanner)
Input of latent finger and palm prints into the database from objects and surfaces (digital camera), from latent print layouts and lifting tapes (flatbed scanner)
Check of tenprints and latent prints against the local database, review of candidate lists
Transfer of latent prints and tenprints (including those of the dead) to the central AFIS for search and permanent storage
Receiving of search results from the central AFIS
Remote access to authorized sections of the central AFIS database, verification of candidate lists, printing of information

MKDS as a mobile finger and palm print enrollment and express ID check station:

Creation of electronic tenprints: demographic data, rolled and plain fingerprints, palm impressions, photos of appearance and distinctive features
Storage of tenprints in the LIVE SCANNER database
Export of tenprints to the local AFIS database
Export of tenprints to the central AFIS database (Papillon format, ANSI/NIST (RUS-I, Interpol, FBI) format)
Express ID checks against the local tenprint database
Remote Express ID checks against the central AFIS database

The station can be set on any horizontal surface of 0.8 x 1 m in size. Deployment time including automatic testing is under 5 minutes. Without testing – less than 1 minute.

The station is adapted to work in vehicles: using the car battery via a voltage converter or the onboard electrical network of a vehicle. In the absence of external power sources, the station can run on batteries.
PRODUCT INTERACTION

Can interact with PAPILLON AFIS and POLYFACE to populate databases with new information and obtain search results on express ID checks.

Important component of PAPILLON-MKDS is a DS-30 or DS-45 scanner.
MODELS AND CHARACTERISTICS

Equipment:

shockproof case with mounting accessories
laptop, mouse, charger, battery set
car voltage converter, surge protector
EDGE/GPRS/GSM modem
digital camera, charger, tripod

MKDS can be equipped with the following auxiliary devices:

A4 flatbed scanner
A4 inkjet printer
graphics tablet
FOSKO – Evidential photography mobile kit

Single case MKDS complete with DS-45

Single case MKDS complete with DS-45

Software:

PAPILLON AFIS Multibiometric Identification System
LIVE SCANNER Biometric Enrollment System
FILTER Biometric Express ID Check System
Linux or Windows operating system

Connection to central AFIS (TCP/IP):

cellular communications (EDGE/GPRS/GSM, CDMA)
local area network
dial-up and dedicated telephone lines

Dimensions:

One-case version:

in transportation mode – 625x500x297 mm
in operation mode – 625x700x680 mm

Two-case version:

in transportation mode – 538х406х211 mm and 487х386х185 mm
in operation mode – 538х500х540 mm and 487х500х500 mm

Weight (depends on the design version):

One-case version – 15.5 kg
Two-case version – 7.0 kg and 5.5 kg

MKDS in two cases with DS-30

MKDS in two cases with DS-30
KEY BENEFITS

High-quality images of wet, excessively dry fingers and palms, as well as fingers and palms with rubbed or naturally low papillary patterns
Complete program elimination of motion aberrations when rolling fingers
Shockproof case with rigid fixation of the equipment – mounting accessories of the case provides convenience of work and reliable fixation of the equipment during transportation
Deployment time < 1 minute. If the automatic testing is necessary < 5 minutes
Operation from the onboard power supply of a car and from the mains. Ability to operate autonomously on own batteries
Express ID checks against the local fingerprint database in the absence of connection with remote databases
Express ID checks against regional, interregional and federal AFIS databases depending on the settings and access permissions